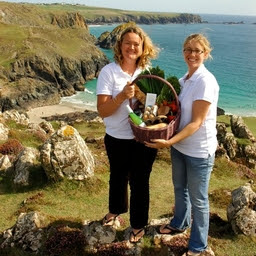 About Us
We are sisters who were brought up on our family farm in the far West of Cornwall. In 2010 we started our first business, The Cornish Food Box Company. We wanted to make it really easy for people to get their food shopping from the many wonderful food producers Cornwall has. The business was started in a tiny shop on the outskirts of Truro city centre. We delivered to one person in our first week, and we've grown the business from there through sheer hard work, great staff, wonderful customers and brilliant produce. Over eleven years on, we have several awards under our belt, hundreds of happy customers and a website selling over 2000 products.
We soon recognised that customers wanted to gift our amazing foods to friends and family, and our hampers were born out of this. After many years of selling hampers and gifts alongside our grocery service we developed a dedicated hamper and gift business – The Fine Food Hamper Company.
Our gift hampers bringing together the very best produce with fantastic giftware, packed with love, and with a beautiful dedicated website to make it really easy for you to buy that special gift. Hampers that don't only look special, but have truly memorable things inside. We think our carefully curated, hand picked and lovingly packed hampers do just that – the perfect way to show someone how much you care.
Our Producers
We source our products from a wide range of artisan producers who are some of the very best at what they do. We are lucky to be surrounded by a plethora of awarding winning food producers and innovative makers here in our beautiful Cornwall, but we happily source great products from elsewhere in the UK for our luxury hampers. From bakeries to gardens, and studios to workshops, you can be sure that everything we include in our hampers are products that we believe in and are made to the highest standards.
Delivery
We deliver across the UK using DPD. Our hampers are packed with a great deal of care to ensure their safe arrival. Wicker hampers are packed in to our branded cardboard outers, and our standard hamper packaging is a printed cardboard box featuring unique illustrative designs. Internally, we use recyclable materials to protect goods in transit. Chilled food is packed with gel ice packs to ensure temperature control for 48hrs. Our chilled food is sent out overnight to be delivered the next day so should never be in transit for more than 24hrs.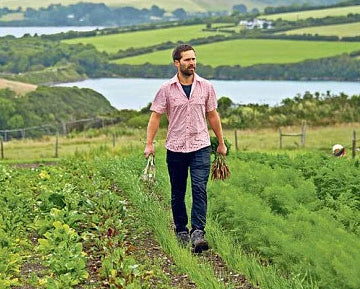 Sustainability
We live in a beautiful part of the world, surrounded by nature, and we want to keep it that way. So in our business we do everything possible to have as little impact upon the environment as we can. From sourcing products from responsible producers to using only recyclable packaging to keep our hampers safe on their journey our environmental credentials are top notch.
Our Journey
From humble beginnings in a small shop in Truro, and delivering boxes of local veg to local customers, we've grown greatly since we started out in 2010. We embarked on this journey with a mission to provide superb customer service whilst helping our customers get fantastic foods to their doors.
The Cornish Food Box Company is still going from strength to strength and you can buy our fresh Cornish groceries at www.thecornishfoodboxcompany.co.uk