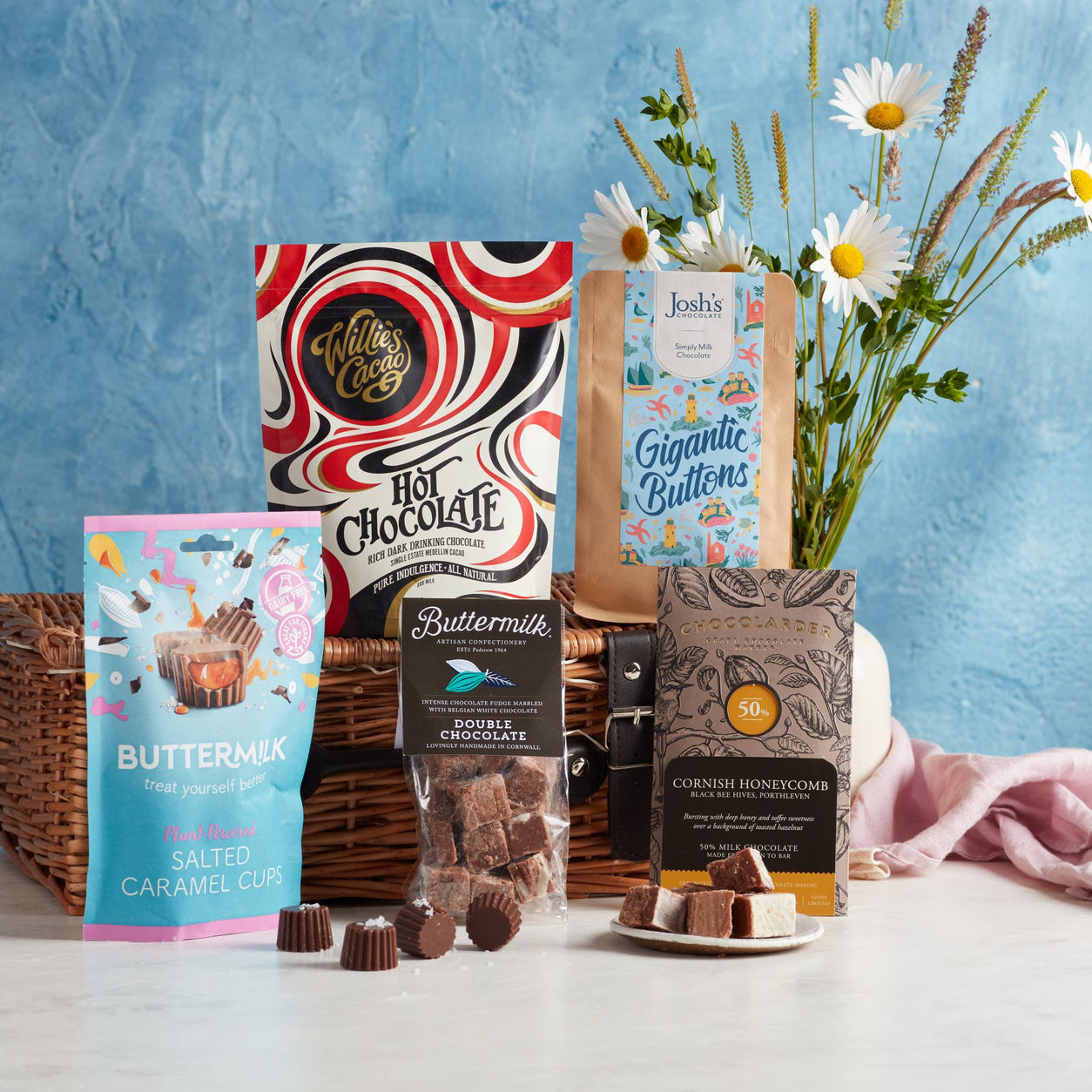 Chocolate Treats Hamper
IN STOCK
Rich and creamy chocolate treats made by some of the finest chocolatiers in the UK. The perfect gift for those with a discerning sweet tooth.
Product Details
Treat someone special with our Chocolate Treats Hamper. Absolutely perfect for those with a discerning sweet tooth. Containing some of the finest chocolate produced in the UK from fantastic artisan chocolatiers. 
This hamper contains:
Chocolarder Cornish Honeycomb Chocolate 70g
Bursting with deep honey and toffee sweetness with a background of toasted hazelnut this chocolate is utterly delicious and ultra sustainable.  The chocolate is made from 50% cocoa with beans sourced from Öko Caribe, Dominican Republic.
Master beekeeper Matt Pitt cares for his colonies of Cornish black bees by using sustainable methods that are stress and chemical free for the good health of his fuzzy compatriots. He supplies his fresh tree honey from which to make our own honeycomb, which delivers deep, heavy honey flavours and a pleasing crunch alongside creamy milk chocolate.
Buttermilk Salted Caramel Cups 200g
Delicious little bursts of salt and gooey with intense caramel sweetness. Packed full of natural ingredients these salted caramel cups are gooey, velvety and moreish with every bite. They are also free from gluten, dairy, palm oil, dairy and are suitable for vegans.
Willies Hot Chocolate Powder 250g
Totally pure and bursting with flavour. Made with one of the world's great single estate cacaos found in Medellin, Colombia offering incredible richness and depth of flavour. 100% natural, containing only two ingredients, cacao and raw cane sugar. Suitable for vegans; free from gluten, dairy, and wheat.
Josh's Gigantic Milk Chocolate Buttons 135g
His signature 36% cocoa solids blend – smooth milk chocolate in a gigantic button.
Buttermilk Double Chocolate Fudge 175g
Intense milk chocolate fudge marbled with solid white chocolate through it made in the traditional open pan method.
Please note that occasionally we may have to substitute items in this hamper. If we do so, they will be for similar products of equal or greater value. This hamper comes in our fully recyclable illustrated cardboard hamper box. If you would like your gift packed in a wicker basket please select to add one to your order.